The Community-led Cancer Screening Project (CLCSP) is a three-year project (to November 2020), being led by North Western Melbourne Primary Health Network (NWMPHN) and funded by Victorian Department Health and Human Services (DHHS).
The goal of the project is equitable participation in cancer screening programs for the Aboriginal and Torres Strait Islander community in Wyndham, and for low socio-economic and culturally and linguistically diverse communities in Brimbank.
There are four key principles that will drive the project outcomes;
Equity;
Locally driven initiatives;
Partnerships; and,
Sustainability.
The project is using two main strategies or workstreams. Workstream One will focus on strengthening systems and knowledge within general practice to support under-screened communities to participate in cancer screening programs. General practices in Brimbank and Wyndham LGA's will be targeted.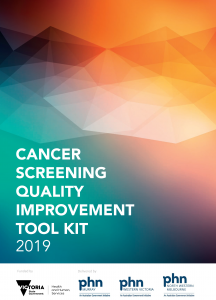 For Workstream One, a quality improvement tool kit including education resources, data management, processes, setting baselines and goals, recalls and reminders, patient-centred and culturally sensitive initiatives has been developed between the three PHNs leading the CLCSP. This tool kit will form the basis of quality improvement work in general practices in the Wyndham and Brimbank LGAs.
The tool kit is available as a single file or as individual sections.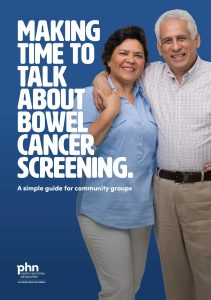 Workstream Two used a place-based approach, targeting two local government areas in the NWMPHN region. In Wyndham the focus was on working with Aboriginal and Torres Strait Islander communities and in Brimbank with low social economic status and CALD communities. These communities were engaged to identify barriers to screening, prioritise and co-design intensive community-based activities to improve cancer-screening rates.
The Making time to talk about Bowel Cancer Screening: A guide for community groups was created as part of this work. This guide aims to help local communities to talk about the importance of bowel cancer screening, and share the message
with their friends, families and networks.
Download the guide and read our news story to find out how you can help share the guide.