The Person Centred Medical Home Model in General Practice
Overview
A Person-Centred Medical Home is a general practice or Aboriginal community-controlled health organization that strives to deliver the highest quality person-centred, and integrated care through adoption of an evidence-based, coordinated, multi-disciplinary model of care that aims to improve efficiencies and promote innovation in primary care services.
The Person-Centred Medical model forms the model for the Commonwealth Health Care Home trial.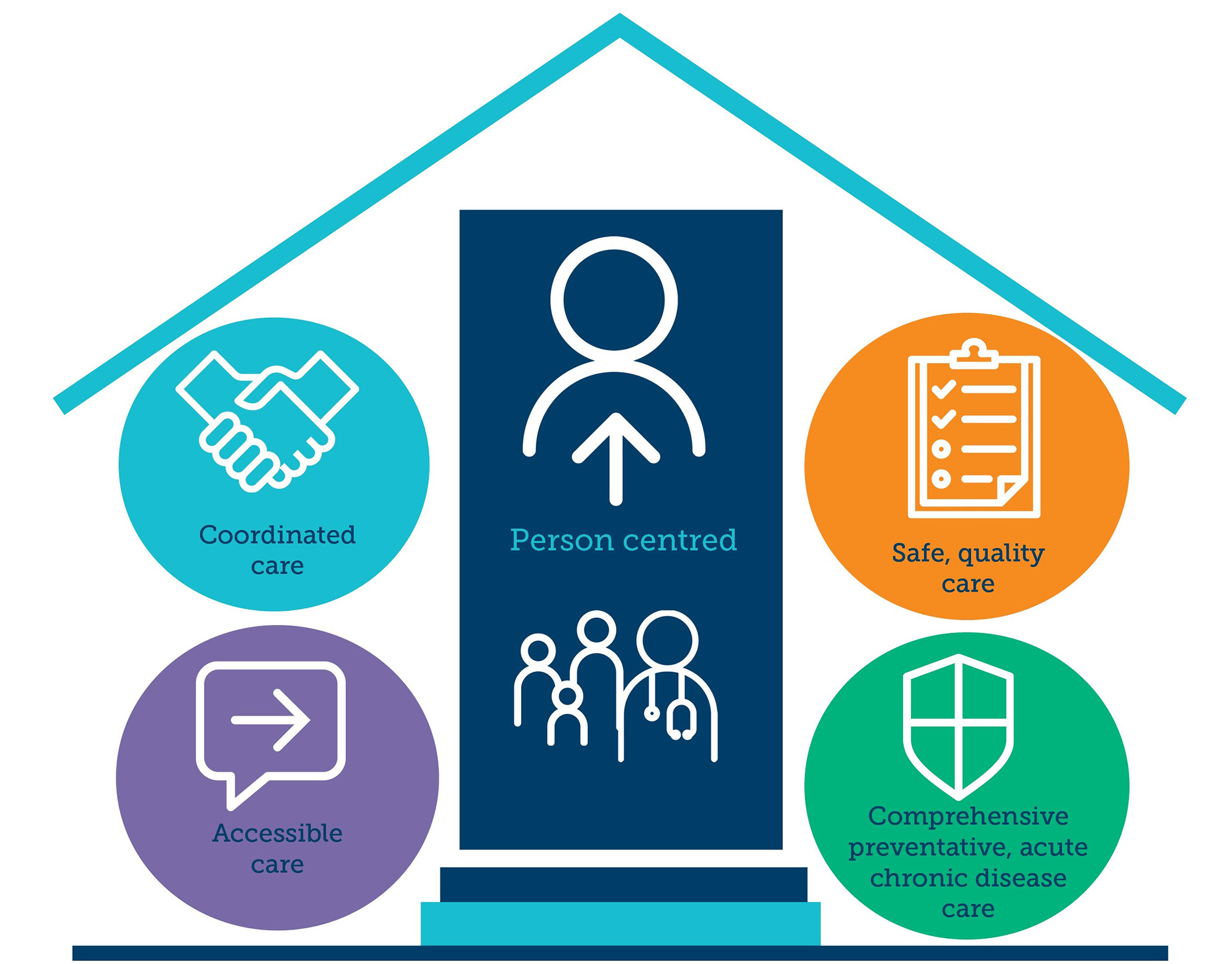 Key features of a Person-Centred Medical Home
Central coordination of patient care: The care team support integrated patient care across the whole health care system through shared information and care planning. If a patient is referred to a specialist the health care home follows up to make sure they keep track of everything being done to the patient.
Customised shared care plan:  The care team, together with the patient, develop a customized and shared care plan for the patient, where they set patient-centred goals, develop care strategies to improve health and identify local care providers to best care for the patient's needs.
Patient-team partnership: The patient, the patient's family and the care team work as partners to motivate the patient to increase their knowledge, skills and confidence to manage their health. New technology will be put to use to further assist patients in ways that are convenient.
Better access: During the day, patients can access their practice by phone, email or video conferencing. Access is also available after-hours.
Flexible team-based care: Practice teams share the care of a patient. Responsibilities—not tasks—are reallocated within the team and all team members function at the top of their scope of practice. This increases capacity and access.
Commitment to high quality care:  Care givers rely on evidence-based patient health care pathways to plan and decide on how to give the best quality service the patient needs.
Data driven improvements:  The health care team and the patient collect and share data in order to measure health outcomes and to improve performance.
Our Work
The Australian Government recently introduced the stage one trial of a new Health Care Home model which is based on the Person-Centred Medical model.
While North Western Melbourne PHN is not part of the initial trial of this model, we are deeply committed to supporting general practice to build capacity to adopt this new model of care.
NWMPHN supports the Person-Centred Medical model in general practice as part of improvement in general practice.
Self-assessment tool
NWMPHN has commissioned a self-assessment tool for practices to find out how ready they are to adopt a Person-Centred Medical Home model. Once practices complete the tool they receive a report that shows what areas they are doing well and what areas they can work to improve. This tool will be available for all practices to use from late July 2018.
Quality Improvement activities
After practices complete the self-assessment tool, NWMPHN will support them to design QI activities for identified areas of practice improvement. Activities may be self-directed or may involve practices engaging with existing PHN activities and programs.
Supporting local leaders
The Leaders Group is a group of local GPs, nurses and practice managers who are leading the way in adopting the Person-Centred Medical Home model in their practices.
The Leaders Group:
Provide clinical advice on how the PHN supports practices to adopt the Person-Centred Medical Home
Brainstorm ways to implement ideas
Share their learnings and experiences with other practices through formal and informal processes supported by the PHN
How can my practice become a Person-Centred Medical Home?
If you would like to know more about the Person-Centred Medical Home model and how to apply it in your practice please email us now.